Visit us at HIMSS18 to learn about exciting, new ways identity management increases productivity and reduces IT costs.
Healthcare IT organizations are looking to streamline user-centric experiences while supporting clinical improvements and adding value to patients. Identity and access 
management systems provide valuable tools to create operational efficiencies such as:
On-the-go authentication so healthcare staff can securely access applications from mobile devices.
Streamlined accountability and record keeping to meet the growing regulatory environment.
Protecting sensitive patient records by requiring authentication to access computers, monitors and multi-function printers.
RF IDeas, a leader in RFID credential readers, partners with leading companies to bring innovative identity and access management to improve IT access controls and streamline workflows.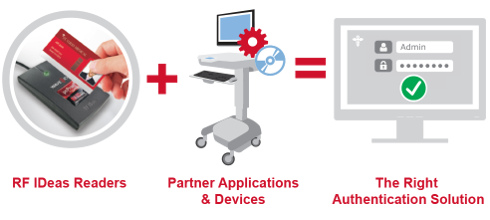 RF IDeas and its partners can help you develop an identity and access

management strategy.


Visit our booth #3265 to experience new and
proven solutions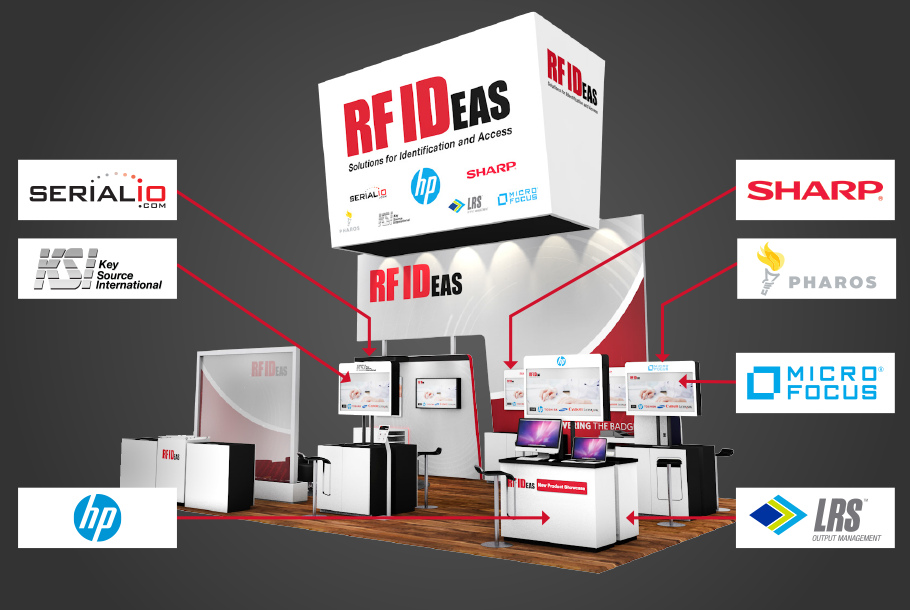 Session Schedule
Join us during HIMSS18 in our live theater for our partner presentations. Session schedule is as follows:
Tuesday, March 6
9:30 am
Exhibit Opens
10:40 – 11:00 am
Access Solutions & New Products Overview
11:00 – 11:20 am
Micro Focus
11:20 – 11:40 am
HP
11:40 am - 12:00 pm
KSI
12:00 – 12:20 pm
Sharp
Break
12:40 – 1:00 pm
RF IDeas
1:00 – 1:15 pm
Micro Focus
1:15 – 1:30 pm
Access Solutions & New Products Overview
1:30 – 1:50 pm
LRS
1:50 – 2:10 pm
Pharos
2:10 – 2:30 pm
Serial IO
2:30 – 2:50 pm
RF IDeas
2:50 – 3:10 pm
HP
3:10 – 3:30 pm
KSI
3:30 – 3:45 pm
Access Solutions & New Products Overview
3:45 – 4:05 pm
Sharp
4:05 – 4:25 pm
LRS
4:25 – 4:45 pm
Pharos
4:45 – 5:05 pm
Serial IO
End of Sessions
6:00 pm
Exhibit Closes

Wednesday, March 7
9:30 am
Exhibit Opens
10:00 – 10:20 am
Access Solutions & New Products Overview
10:20 – 10:40 am
HP
10:40 – 11:00 am
Micro Focus
11:00 – 11:20 am
Sharp
11:20 – 11:40 am
LRS
11:40 am - 12:00 pm
Pharos
12:00 – 12:20 pm
KSI
12:20 – 12:40 pm
Serial IO
12:40 – 1:00 pm
RF IDeas
Break
1:15 – 1:30 pm
Access Solutions & New Products Overview
1:30 – 1:50 pm
Micro Focus
1:50 – 2:10 pm
KSI
2:10 – 2:30 pm
Sharp
2:30 – 2:50 pm
LRS
2:50 – 3:10 pm
Pharos
3:10 – 3:30 pm
Serial IO
3:30 – 3:45 pm
Access Solutions & New Products Overview
3:45 – 4:05 pm
Micro Focus
4:05 – 4:25 pm
KSI
4:25 – 4:45 pm
Sharp
4:45 – 5:05 pm
LRS
5:05 – 5:25 pm
Pharos
5:25 – 5:45 pm
Serial IO
End of Sessions
6:00 pm
Exhibit Closes